Please vote for me today. Thank You. - Ah, never mind.
Blog's Blog
June 4, 2004
I can't believe how many nice calls and emails of support I have received after my loss! Many more than calls of support while running! Some of the callers are political honchos that say thing like "I can't believe you did so well on a first try - run for something else", "get on a couple of committees". I am also surprised at the expression of the (perceived) role the ethnic makeup of the district played.
I am thinking of ideas on what to do next with this website - the number of hits has not gone down since the election. One idea is to go ahead and implement my campaign promise of posting minutes and voting records (and other county documents). I will (eventually) be posting my notes on what I think I did right & wrong during the election - more as a study sheet for potential candidates. I would also like to post campaign insights from other candidates (winners and losers).
I am posting the following recent email exchange. I feel I was burned a bit early on by the lack of endorsements, especially by the Sierra Club. I have deleted the person's name for the sake of their privacy, but suffice to say the person played a key part in the process. I also received a card from this person expressing encouragement for post-election involvement on issues of interest to the Sierra Club.
Dear xxxxxxx,

Thanks for visiting the site. My tax return was downloaded over 200 times
prior to the election. I am no longer a public figure, so I removed it. I
will be slowly dismantling or trasnforming the site as I think of
transition ideas.

I made great strides for transparency that neither the Sierra Club nor any
other candidates felt a need to match. Ms. Vigil received large
contributions from developers, the Pojoaque Pueblo and a Houston law firm
tied to the Governor. You and yours achieved what you wanted (at several
levels). Now it is time to work with your endorsement selection. Neither
you nor the SC committee saw fit to support my detailed positions and
objectives. I sincerely hope Virginia effectively meets your publicly
professed expectations of caring about water, growth and the environment.
I would have.

FYI, In terms of transparency and information flow, all three local
papers, the Living Wage Network and AFSCME made their endorsement
questionnaires public or made them available to their members. The Sierra
Club did not.

FYI, My Sierra Club questionnaire was downloaded 392 times, unfortunately
mostly after the Reporter and JN endorsements and the majority of early
and absentee voting had been completed. Not a small number of readers
(Sierra Club members and not) expressed to me surprise that I was not
endorsed.

In re-reading this prior to sending it, let me say I am not as bitter as
it seems to imply (I will sincerely work with Virginia). I am however, now
much more aware of local dynamics and subtext than I was when I started to
campaign.

Thank you for the card and e-mail.

Tom

> Below is the result of your feedback form.  It was submitted by
>  (xxx) on Thursday, June 03, 2004 at 05:25:50
> ---------------------------------------------------------------------------
>
>
> Message: 
>I thank you for your positive campaign and hope you will stay
> involved in regional planning and growth issues.
> xxxxxx
> PS, out of curiousity today, I clicked on your income tax filing and got a
> null/blank document.  Did you remove it?
> ---------------------------------------------------------------------------
>
>


On a lighter note, I have pulled up two pickup truck loads of signs (they come out a lot easier than they go in!). I hope to finish up in the next day or two. Thanks for you patience.
June 2, 2004 5:45 am
It appears I still lost, only worse. With absentee and early voting, my loss increased to about 40/60, which was my baseline when I started the campaign - I had hoped to push odds to about 45/55. Oh well. I did (more) poorly on early voting (my positive endorsements came out well after the start) and absentee voting (I lacked the volunteers to call absentee voters). Typically low voter turnout in my 'strong' (outlying) precincts and typically high voter turnout in my weaker precincts confirmed what I thought was likely to happen.

I believe I would have had a much greater chance had other candidates been in the race, but the local democratic party (some party) did a good job managing that.
I tried to call Virginia last night to congratulate her, but she did not answer her cell phone. I hope she follows through on the issues we brought to the forefront.
Well, I'm off to pull up a ton of "vote Blog" signs and haul them to the dump.
June 1, 2004 9:48 pm
It appears I have lost, about 56/44. Details to follow. Thank you all that voted.
May 31, 2004
I have done all I could do. The result is up to the voters. In the last 5 days, we have hand delivered a copy of the press endorsements to over 1,600 homes in key precincts (ie all precincts). Signs are up at all polling places. A best of luck email has been sent to Virginia. The post poll closing meeting place has been set: Diego's in the DeVargas mall.. (Come on by after 7 pm). A few sign wavers have been assigned. Now it is the voters turn. Please vote.
I intend to write a few post election blog entries (I have been keeping a tactical list of things I think I did right & wrong). I really would like to compare notes with Virginia and publish some composite insight into running in Santa Fe County.
Please vote. For me. Thank you.
May 30, 2004
It's getting down to the finish line. I just want to say now, before it gets crazy, that I think my opponent, Ms. Virginia Vigil ran a fair and ethical campaign. We both care about our community's future. Virginia's campaign took a very different approach than mine, and the press (print and radio) did a very good job of getting the issues and the personalities out to the public. The role played by special interest endorsers and supporters (in my and other races) was much more corrosive. The shifting role of supporters and rampant rumors also made campaign life interesting. I hope I win - I know I can do a good job for Santa Fe County. Even if I don't win, the run and all I learned made it worth it.
I got a recorded phone message from Virginia a couple of days ago. I had mixed feelings about phone calling (automated or 'live'). I like to get them, and a supporter had offered to put together a 'phone party'. In preparation I made call to known solid supporters - they were mostly tolerant of the calls. I then called about 50 people who voted in at least 75% of the last 8 elections. The goal was not to motivate them to vote (they clearly would), but to motivate them to vote for me. I called between 7:00 pm and 8:45 pm. Frankly, even those that had decided to vote for me were annoyed I called. I was clearly annoying the undecided voters as well. So, I stopped. You will get no phone calls from the Blog campaign. Your welcome. It doesn't work both ways - If you want to call me, I'm out walking, and can be reached on my cell at 920-8785. Home 8-10pm at 983-9361.
Enjoy the Memorial Day weekend - give thanks to those who fought (and died) to defend your right to vote.
May 27, 2004
I just posted my most recent required campaign cash/expense/donors here. This includes the required State form, as well as a Quicken report of all income/expense to date by category. No real surprises except how much it costs to run a basic campaign (~$23K)!
May 26, 2004
Well hot damn, I finally got a couple of endorsements. Both the Journal North and the Reporter gave me very nice endorsements. It is still an uphill battle, and I don't know how much weight voters give them, but they sure made me feel good this morning. Read them here. But hey, the Reporter is free and the Journal North is only fifty cents - get your own copies!
On the flip side, the New Mexican endorsed Virginia, but it was a rather limp endorsement. One paragraph of praise, then two paragraphs of "you took money from Pojoaque so we are watching you." They even referred to me, not by name, but as the "other outstanding candidate". Hmmmm. If I win are they going to watch me or am I off the hook?
Also on the money side, I was told by a person who should know that the Texas law firm that has been donating to local politicians (including Virginia) is one of the firms that represented New Mexico in the tobacco litigation. They are now serving as a money conduit for the local candidates Governor Richardson wants to help. Take a look at my May 19 entry.
On the (final) debate note: Virginia and I spoke on KSFR yesterday morning. We were both snippy, and ended up taking it out into the parking lot (to snip some more). We spoke again just before the evening debate and calmed down - we both have a of non-campaign stress in our lives right now, and a lot of campaign stress. In any case, the well attended and well run evening debate (thanks Dave Gold & SFDWOA) was really well done. We both spoke well and professionally, laid out detailed positions on a lot of issues. The people that attended got good detail on where we stand.
May 24, 2004
The Journal North printed their interview / questionnaire on VV and me today. I thought they did a nice job - actually all three papers did a really good job on their election reporting. If the voters take the time to at least skim these articles, they will have a good understanding of our positions. Now about the endorsements.... In reading some of the reports and other published surveys, I notice Virginia often does not answer a direct question directly. For example, reading the JN article, I STILL don't know whether she supports the proposed Aamodt settlement: " I support the current initiative to bring the community together and educate them with the mission of building..." Not a yes or no within the entire answer. My reply: "Based only on what I have read in the papers, no. It does not protect the existing non-native users..." You can agree or disagree, but at least you know! This has been a consistent pattern on all hard questions, from Living Wage to growth. The public (and I) have no clue what she wrote in response to special interest groups (Sierra Club, AFSCME, etc.) since neither she nor they published her replies. I did. At least the papers published our answers, so the voters get some idea of what we think and how we write. The papers have done a good job, so we voters will get the commissioner we deserve.
My wife and I early voted today, so I know I got at least 1 vote! I'm sure 2. So far, 349 people have early voted at the County Admin building. Get out and vote! Assuming you are voting for me. If not, have a beer, call a friend and forget all about the election.
I am really numb about the possible outcome of the election. I am by nature a pessimist / realist. Some days (hours, minutes) I think I'm crushed and don't have a chance. Then I hear from voters, rethink a strategy or achieve a goal, and I see a reasonable chance of victory. When I entered, I knew it would be an uphill run. It has been a hard run, that's for sure.
Last Chance Debate. Organized by David Gold and sponsored by the Santa Fe Domestic Well Owners Association
County Commission Candidates Debate
Virginia Vigil - Tom Blog
Tuesday, 5/25 6:30-8:30 PM
Main Library Downtown
145 Washington Ave
We have been given a list of likely questions; there will also be questions from the audience. I think this will be more informative and livelier than the recent, limited candidate forums. Y'all come!
The second campaign / donor reports are due this Thursday, May 28th. I will post mine here as a pdf on or before the due date. No real surprises (in mine).

May 20, 2004
The New Mexican profiled Virginia and I today. While I can nit pick about a couple of things, I really think Julie Ann Grimm did a fair and balanced job. If your read the entire article, you get a sense of the strengths and differences between the candidates: I'm basing my campaign on issues and solutions, for Virginia issues are a close second after length of time in Santa Fe. I'm using mostly my own money for my campaign, Virginia is accepting large donations from, at best, special interests. My background is entirely outside local government, Virginia's is almost entirely within local government. Both of us want to do a good job.
I was quoted in the article as saying I wish I was running against Paul Duran. It would not be about his personal life, but rather about his County policy. I also said, upon hearing he was 'supporting' Virginia, that "that was the best campaign news I had heard all day". You are responsible for your donors and 'endorsers', especially if they set public policy.
The web version of the New Mexican article is here, but spend the fifty cents and buy a copy - the print edition has much more detail. My answer to their written questions (not on web version) is here.
I was surprised to see former city councilor Frank Montano listed on Virginia's campaign committee. When he called two days ago (see next entry), he did not identify himself as supporting Virginia or being on her committee. In fact he said he was undecided. Since I've committed to answer all questions regardless of source, there was no need to play coy. I still would have spent the time discussing the issues he raised. On the other hand I have had very upfront campaign dealings with another Virginia supporter, Tamara Lichtenstein. For the record, Virginia has also been very upfront and forthright on campaign 'problems', as we both pledged to each other.
I've gotten good feedback (no pun intended) from the Que Suave radio interview. It also really highlighted the differences between Virginia and I. The questions were reasonable and relevant. They have a good audience. I was soooo temped to finish up with a long drawn out "Grrrracias RRRRadio Que Suave" - (I did learn some Spanish in Panama), but frankly, I didn't have the guts.
In general, the local media has done a good job of distributing information about this and other races. In my & Virginia's case the voter can get a good sense of the our positions and goals. The message is out there - the voters can make an informed choice.
May 19, 2004
When I was considering running, I spoke to Harry Montoya (current commissioner district 1), and he said the hardest part of the job is getting it! After all the time spent campaigning, the time spend learning and coming up to speed will seem easy. I can vouch for the 1st, and hope to experience the 2nd. This pace is harder than when I started my company - and less delusional. With a startup, there may be a second chance, a revised product, more funding. With the election, it is simply over on June 1 @7pm. No second chance.
Still bummed about the endorsement process. I don't know how the Sierra Club can endorse candidates (Vigil & Trujillo) that take large donations from what may be the largest golf course / resort water user in the area, the Pojoaque Pueblo and an out of state law firm. Virginia's largest donors are the Pojoaque Pueblo, the law offices of Heard, Robins, Cloud, Lubel & Greenwood LLP and a real estate developer. Questionnaires are great, but follow the money! Plus, how does an organization (the (F.O.P.) endorse Virginia without even interviewing me? OK, I'm still upset and/or naive. Yep.
The Sunday Candidates Forum sponsored by the Democratic Women was somewhat of a bust. Lots of candidates and campaign workers, few new faces of voters. Donita Sena had a nice bowl of M&Ms. Kept me alive. Oh well, could have been out walking.
The realtors association had a nice forum this morning for all commission candidates. Fast paced, relevant questions. I said I favored fair impact fees (I'm sure they were not thrilled about that), but when allocated back to the services impacted (fire, schools, etc.), they really do help finance sensible growth. I didn't realize they offered door prizes to realtors for visiting newly listed houses!
My first ad came out in the Reporter today. Looks ok, but I learned that yellow (my sign color) and blue (my nice background color) make a really pukey green! Its readable, and hopefully next weeks will look better. They also published the interview with Virginia and me. (I?). It seems to fairly represent the positions we have. I liked the format of interviewing the candidates together - it is much more real world, allows for immediate feedback (i.e. arguments) and I think you have to think a bit quicker. I think. I learned they are not going to call us with questions and report our every word! Now, I can stop memorizing the county mission statement, and number of employees, and the budget for the Sheriff's department. The remaining campaign time just got a little calmer.
Got a call yesterday from former City Councilor Frank Montano who first busted my chops (with some justification) for putting signs up in the right of ways. Then we had a great conversation about growth and tourism. He has the city's perspective and some great ideas. I had called him about 6 months ago to discuss these issues, but didn't get a return call. To bad, I think he could have provided some good guidance.
Virginia & I are going to be on KSWV (AM 810) at about 6:05 today. I understand the former County Commissioner Javier Gonzales will be asking questions, so I expect a tough, lively session. Tune in!
Lastly, a bit of rumor control: I have never said, nor would I ever support, billing domestic well users! I have heard this from two sources, both unable to recall their source. First, it would violate state law. Second, it would get me killed. Perhaps the rumor is a distortion of my opinion that we should have a meter on each well (current law) and users ANONYMOUSLY provide water use information, to be used only by hydrologists to help understand the aquifer. Any questions, please call.
May 15, 2004
I've been walking, signing and talking. Today, I walked one street in the South Capital area (Seville) that (on paper) has a whole bunch of consistent voters. Nice street (a bit long), but no one home! I knocked on 20+ doors, and spoke to 2 people! And both were polite but non-committal. Pretty low yield. Then moved to Katherine, off Agua Fria. Much better. Had several promised votes, two LEGAL signs, and my first 'I already early voted for you.'
Had two 'endorsement' interviews. Thursday I returned a call while out walking (and signing) to Bill Waters of the New Mexican. An hour later, in a 'vote blog' t-shirt, I'm being interviewed. Good questions, 27 minutes. I've got no clue how it went. Friday, had a interesting interview by Julia Goldberg of the Reporter. What made this one unique was that she interviewed Virginia and I at the same time. We were both there for about an hour. I would love to write more about the details these interviews (questions, replies, even the editor's comments), but I don't know what the protocol is, and I don't want to piss them off! I guess my same rules as a written questionnaire apply: they own it for about 10 days (giving them time to think & publish), then I will. My guess (unlike special interest groups) is that they will publish more detail than I will remember in 10 days...
The Democratic Woman of Santa Fe (are there any other kind?) are having a 'meet and greet' your State and County candidates tomorrow, Sunday from 4-5 at the County Fairgrounds. I paid $25 to be there, and it will cost you $5 to get in, so come with some hard questions...
Early voting starts Monday at the County Clerk Office, downtown at 102 Grant Street (County Admin Building). Vote Early, Vote.
May 12, 2004
I just sent in the Journal North's questionnaire - I will post it by May 24. (everybody wants to know if I have been arrested... it is starting to sound like "Alice's Restaurant"). Got a copy of Virginia's Campaign Disclosure (she did not post to the web - I had to find parking at the County building!). To date, I have spent more on signs and mailings than she has. No surprise there. It was interesting that she accepted an early donation ($100) from Gary Roybal (just retired county utilities head that went to work for the Peter's Suarte de Sur development after getting approval, recently reversed, for a special water service agreement for same development). Also a $500 donation from the Pojoaque Pueblo and $500 from a Texas law firm that specializes in the plaintiff side of big liability cases (asbestos, etc.). Interestingly, the same Texas law firm also donated $5,000 to Roman Maes.
Got a call today from KSWV (AM 810 'Que Suave'). They are doing County Commission 'meet the candidates' night on Wednesday, May 19th starting at 6pm. Virginia and I are first, followed by the other candidates. Tune in!
May 10, 2004
Sorry been so long. Lots going on. First, I just posted new disclosure information. Additions include the Living Wage Network questionnaire (I would support it in SF County, if it withstands the court challenge), The New Mexican's Candidate questionnaire (I answered in detail. good questions (I've never been arrested...)), and the required 1st Campaign disclosure (I've spent about $12k - mostly mine!). More disclosures will be provided as they are completed.
Yesterday, I had a great interview by the New Mexican reporter Julie Ann Grimm. We spoke for an hour, then she walked with me as I knocked on doors (Las Mananitas, in Casa Solana). It's her story, so I don't want to give anything away - I was just impressed a reported would spend a chunk of time on a Sunday. I understand she then went on to attend a planning meeting with Virginia's campaign. The story should be out next Wednesday or Thursday.
Last Thursday, I spoke at my first candidate forum. I thought I did well. A few people told me they appreciated how detailed I was. Virginia spoke well, and concluded in Spanish 'for those that understand...' I concluded in English for 'all of Santa Fe'. Oh well. The audience was mostly friends of the candidates, so I don't think many minds were changed.... However, it is supposed to be broadcasted a couple of times on community channel 8. Please send an email when you see it; we don't get cable in this part of the county! If you can't wait for the video, here are my opening comments.
May 5, 2004
I was out walking yesterday and today - the cards I mailed had just started to arrive. Since I walk from the same list I mailed from and I was walking late afternoon, I was thrilled to hear how many people said "I just read your card.", then proceed to ask me a question about the issues raised. That's how its supposed to work! OK, not lots, but a few and it was very encouraging!
I had several call today about the card. My wife called me while I was walking because the caller 'really needed to talk to me.' I called back after finishing the street I was walking. It turns out I had knocked on her door Sunday (off Galisteo) and left a card. She had a SFCC class assignment due tomorrow: interview at least one candidate in a local race. We spoke, and she said she would vote for me - at least she votes!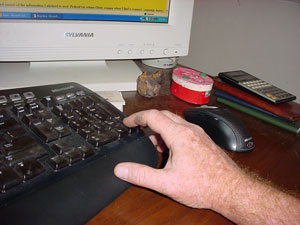 Another caller said my positions did not look Republican. I said good, I'm running as a Democrat. We spoke a bit more about water, ethics and transparency, then she very politely implied that I or someone from my campaign was removing Virginia's signs. She had seen my sign up and two nearby Vigil signs on the ground nearby. I said Ms. Vigil & I had pledged to each other not to do such stuff. I offer some possibilities: My signs use heavier gauge stands - perhaps the wind had blown hers down, or the County had pulled them all out and laid them down (they have been doing that to all campaign signs). "Ha" she said, "but yours was up!" I then said I spend 2-3 hours a day on 'sign patrol' replacing or installing new signs. I'm not sure she believed me. Hence, I am posting the picture at the right. Note the black callus forming on my typing finger (same on left hand, but I had to hold the camera). That is from inserting hundreds of signs into very hard, dry dirt! Really (Close ups are available...). We talked further (I'm not sure how she will vote) - I gave her Virginia's phone number so she could call Virginia and get her signs back up (off Fin de Sendero). After talking for 45 minutes, she offered to try to get a small group together that Virginia and I could address and take questions from. Sounds great!
As noted below, there is a Candidate Forum at the El Dorado tomorrow at 5:30. It will start with County Commission Candidates: Blog/Vigil, Sullivan/ Jaramillo and lucky (no opponent) Campos. After us, it will be the candidates for State Senate districts 25 & 39. This may be the only Forum for County Commission Candidates - thank you Voices of Santa Fe.
May 2, 2004
Well, I have been walking my brains out. Casa Solana and the Osage area have the most consistent type of door: solid wood with bolts screwed in around the edges. In general, lots of doorbells don't work - people seem to use dogs as doorbells. On hundreds of doors, I have seen countless American flags, 3 mezuzahs and 4 little cards that say "This is a Catholic Home. No non Catholic Religious literature is needed". I haven't come close to all the doors I want to knock on, OR my goal of loosing 10 pounds from walking!
Just mailed out a second card to registered Dem voters. This card details (as much as you can in 8.5 x 5.5 inches) my stand on water and growth as well as ethics and disclosure. Should start to arrive tomorrow. Let me know if you would like an extra copy....
There will be a candidate's forum for all Commission candidates on May 6th at the El Dorado Hotel at 5:30. It is sponsored by Voices of Santa Fe (thank you!). This is the only Commission forum scheduled so far - seem like all the usual sponsors got burned out on the City Council races.
April 29, 2004
I have just posted (most) of the information I pledged to post: Federal tax return (State coming when I find a scanner), campaign donors and expenses, all candidate questionnaires (I have one in progress, it will be posted by May 10th). I know this is a lot of 'personal' information, and is of some value to Virginia, but I really believe in disclosure. The job of County Commissioner will be complex enough without any suspicions that I am profiting in any way (other than emotionally) by holding office. To read this juicy (or boring) information, go to Tom's Disclosures. I was hoping this would raise the bar and encourage other candidates to disclose more than is required, but that hasn't happened yet....
Signs - what a lot of work. What the city did not remove, the wind bent and ripped. Virginia and I have pledged to leave each others signs alone. While I have had a few mysterious disappearances (I'm sure Virginia has also), I'm sure we have both honored our pledges. I did see a gust of wind send one of my signs flying, answering the question why would someone take a sign but leave the frame.... I am partial to placing signs near telephone pedestals (I'm an old phone guy); One resident in Agua Fria called me the Qwest candidate!

April 27, 2004
Well, the city is complaining about campaign signs. Easy for them to say, they are already elected! Actually, the city has a couple of good points: they clutter, look tacky, and become litter on June 2nd. I see them as an annoyance (and a key part of my campaign!), not a hazard. Perhaps the city should set a height and size restriction, have a 30 day 'open season' and charge a usage/cleanup fee. Political signage, leafleting and the Constitution (not to mention For Sale, Garage Sale and roadside vending) have a long tradition in Santa Fe. BTW, there are NO recyclable or 'green' signs available - I looked.
Like endorsements, opinions are mixed on how useful campaign signs really are: The consensus seems to be they re-enforce a popular incumbent (not me) or provide name awareness of an unknown (me). No political literature says they win elections.
I have attended the Candidate Forums sponsored by Voices of Santa Fe. Got my 1 minute pitch on Channel 8, met lots of candidates, saw what happens when you are set up and/but don't tell the truth, and was told I have a 25% chance of being elected because I live in a district that is 63% Hispanic. I know I have a hard race (but not for that reason) and much better odds! The next Forum is for all County Commission Candidates - its May 6th, 5:30 at the El Dorado. I don't know when it is broadcasted - We don't get cable in this part of the County!
April 21, 2004
I had responded to a Sierra Club questionnaire. I just got word that I did not receive their endorsement. I am disappointed, because they do have good goals, and I thought I had some compatibility with their goals. My pledge to openness is to post all questionnaires; You can read the Sierra Club questionnaire and my responses, as well as the AFSCME questionnaire (no decision yet, but I'm not overly optimistic) on my Disclosures page.
I'm not sure what role endorsements play in a voter's decision. I suppose the viewpoint depends on whether you get the endorsement or not! The final proof is in the vote counting. Both questionnaires were well written, and really made me get my opinions down on paper (or disk).
I'm a bit bummed, so I think I will go eat some chocolate.
Tomorrow is another day - 5 weeks to go. I'm knocking on doors in the Osage area - honk or say 'hi'. Better yet, beg me to put a sign up in your yard!
April 15, 2004 (morning)
Why are you reading this? You should be finishing your taxes! I finished mine last weekend, and will post them to my disclosures page within a few days. Today I speak to the AFSCME (American Federation of State, County and Municipal Employees) union. They have allocated me (and all candidates), 10 minutes each tonight - they plan to interview 22 candidates! Should be just the way I like it - short and intense!

Virginia has started to put up signs. They look good and seem to be well located. I have to look at several of them each time I take and pick up my children at school. Nice placement. Speaking of signs, someone nailed one of my signs (off Entrada & 599 frontage) with yellow paint balls. I'm not complaining - 3 shots, nice grouping, 1 low. Considering it was probably from a moving car, nice shots. Better my signs than stop signs...
April 14, 2004 (morning)
In a good decision, the County Commission revoked the Water Service Agreement with Suarte de Sur ('Peters Development'). This was a great move for many reasons, even for developers.

First, it showed the citizens are paying MUCH more attention to water and development issues; it also indicated how fast a group of over 300 people can be organized - everything from websites and list servers to notices on stop signs was used. The experience and energy level of the community was amazing. This was not a NIMBY thing - this was a clear signal to the current and future commission that water and growth management, debate, planning, transparency and implementation is an absolute priority. The County must exceed the letter of the law and communicate much better with residents.

Second, it shows that individual developments, no matter how big, can't rely on their own wells and out of basin water rights. For meaningful growth to occur, the county must do what it should have done 10 years ago - face the infrastructure needs and build a water system. Work with the City, have public debates, and lay out a real plan (water based zoning - clustered development will occur where the big pipes are). This will be hard sell, and there has to be a lot in it for current residents. I'm really surprised larger developers haven't pushed for a regional system - the cost and uncertainty of out of basin water, dealing with the OSE, has to be a large and uncertain cost to them.
On the Campaign front: I had sent in my replies to a questionnaire from the Sierra Club. Last night was the interview. It lasted about 50 minutes, and covered a great deal of the issues facing the area. Both the questionnaire and the interview were thoughtfully done. I have been discussing with them my posting of the questionnaire and my replies to my website. They were concerned that my posting would imply endorsement - I assured them I would make no such implication - the last thing I need is flak for a false claim of endorsement!
My real goal in posting is twofold: First, The questionnaire had very good questions, and it took me many hours to complete it. It really does articulate my thoughts in a lot of detail. That information should be shared with the voters. Second, I will post ALL questionnaires I reply to, only in this way can the voters and questioning groups see that my answers are consistent. I just sent in a questionnaire to the government employee's union, AFSCME, yet many of the questions overlapped. Voters are entitled to see all replies. I would do the same with questionnaire from the Strip Miners of America!
In any case, I will be posting a lot of information by the end of the month, including all questionnaires, my Federal and State tax returns, and my campaign expense and income (donor) list. This is because transparency and open access is a key plank of my campaign. If elected, I will continue to post tax data, as well as my appointment list and meetings, as well as written explanations of hard or controversial decisions.
April 13, 2004 (early)
I attended the 'historical' (definitely NOT hysterical) joint County Commission and City Council meeting. Every elected official was there, including the Mayor. More attorneys then a bad joke book. While there was some confusion on all sides about the specific topics and goals, it was great to seem them get together and try to listen. The main topic (after two 'You said I heard' Power Point presentations) was the Wheeling Agreement, by which the City sells the county up to 500 afy of water (the County has never come close to using all of it because they don't have the build out to support that many customers). The agreement expires in July of next year.
The City is says they have an upcoming big time shortfall of water, because of the drought and outstanding commitments made to developers by the water company before the city bought it. Simply put, the city doesn't have or doesn't want to sell the 500 afy to the County. The city is running the new wells at Buckman hard on an emergency permit, with no timeline or certainty that they will get a permanent permit for the wells.
I am not a reporter (as I'm sure you can tell), but my observation here is that the County came to the table with nothing more than desperation and hope. The City is playing hardball, supposedly to protect city water users (present and future). In addition to the time pressure of the expiring Wheeling agreement, apparently the County has been planning to buy water rights, but has no place to 'park' them or any place to divert the water. These deals (some rather large) will begin to fall apart in a few months. Compounding all this is the question of how to pay for the diversion project, and the very real possibility that after being built, there may be times when little or no water is available from the Rio Grande.
A few leaders alluded to regional planning or even a regional system, but no one stepped up to actually propose anything. What was decided was to meet more frequently (both as committees and as a whole) and try to hammer out some wheeling agreement.
One person in the audience (a former Commissioner from the 1980's) asked me if I had a brain tumor. Why else would I want to run? He said that they had passed a very simple campaign and disclosure ordinance, but it was repealed by the next commission. He also said they had come within a hair's width of a large regional water system, including City, County and nearby Pueblos. Oh well.
This was an important meeting, I'm very glad I went. It is clear that when the election noise is over, there is some really hard work to be done. BTW, I was a bit more impressed with City Councilors than I thought I would be.
Upcoming: Special interest interviews this week, Walking, and yet more signs!
April 10, 2004
What great weather... Finally, some water! I was putting up a sign yesterday afternoon at Henry Lynch Road & Rufina - next to Ralph Jarmillo's signs - and almost got hit by lighting! I even had the lot owner's permission to place the sign! Virginia, you have connections or what?
I don't know if signs do any good (they cost a lot and start to look really cluttered & ugly when everyone else finds your good spot), but it feels like you are doing something. What do you think? Is it worth $3 - $5 a sign? Ever been persuaded by a sign? (Now that is a Santa Fe question...)
I have finished yet another questionnaire. I haven't done this much writing since I was in school. In following through on my disclosure plank, I will be posting the questionnaires, taxes, contributors, and other stuff soon (before the end of the month).
April 7, 2004 (late)
Well, I have been planting some signs! SO has everyone else! What a hard year for people not interested in politics - they sure have to look at a lot of signs this year - from the old Dean signs to the upcoming Bush & Kerry signs. The good news is Blog's and Vigil's will be gone by June 3rd!
When not walking, I have been answering questionnaires from special interest groups. As part of my plank of transparency, I intend to post all questionnaires and my responses. This way all can see if I am talking out of both sides of my keyboard!
The Journal North ran a good article about water usage in the City - how 5% of people use over 20% of the water - more way more than even Las Campanas. The largest single user was the Gov'ner. I can't post a link to the article - JN requires a subscription, and can't post the entire article because its copyrighted. However, here is a bitt:

Household water allocations would depend on household size, time of year and
whether drought has caused a water emergency. For a four-member household, the
budget amounts in June would be 12,300 gallons in a normal year, 10,500 gallons in
a Stage 2 drought and 9,300 gallons in a harsh Stage 3 drought.

That still seems like a lot of water to me! However, In my walking (now in the South Capital area), it sure is depressing to see the dead lawns.
I still have to get taxes done - then I'll post my state and fed returns, also as part of my pledge for transparency and disclosure.
April 3, 2004
Well, did you get my post card? In my effort to 'get the message out' I mailed about 5,000 cards to District 2 voters that have voted at least 50% of the last 8 elections. Mine showed up Friday. I've had several calls already. One person wanted to know how long I have lived in New Mexico and Santa Fe (18 years/9 years). Another (again!) wanted to know if my name really was Blog (yes). Finally, a person we had lost touch with (she was a 'Muchas Mamas' and gave Anne & I a little break when our twins were a few months old) called and offered a 'meet the candidate' house party.
Well, some City Counselors are taking a baby step towards following through on campaign pledges to cooperate with the County over water and growth. In today's New Mexican In Brief article "Proposal seeks joint water meetings" a few city councilors hope to meet with the County Commission 'at least four times a year'! Since it does outline my position, here is the letter I posted in response to such a high risk initiative:
Meet "at least four times a year to discuss water issues"? Take your time - no rush - no plan - have a drink - no need to anything this century either! Heck, it just rained (it is raining now!), so no need to meet. Get real and get to work! In the last election, water and growth were the TOP voter concern - all the city candidates (since re-elected) pledged to work on water, growth and relations with the County.

We need a Regional Water Authority. Now. Yes, deal with other pressing city issues like pet safety belts and election reform, but get to work and follow through on some campaign promises: Cooperate with the County on water and growth planning. County leaders, get off your high horse and start cooperating and planning with city. A 'County Only' water plan is mirage. Get an elected Regional Water Authority in place.
I'm running for County Commission, and city/county water cooperation and regional planning is my top priority. If you don't want to read the whole site, ate least read my position on water and county/city relations at www.voteblog.org/growth.htm
The Chama Diversion was planned to be online in 2000! (now 2008 – maybe). The City's water has been coming from one source (Buckman Wells) for a long time. The County's limited water system is getting its water from one source: the City. Government is failing the existing residents, our children, and even the developers.
Don't meet 'at least four times a year' – meet until a publicly debated and vetted plan for a regional solution is in place!
I'm glad it rained all weekend, but I didn't get much (any) door knocking done. - Wrote a long blog entry, though. Still have taxes to finish and a long questionnaire from Sierra Club to get done.
March 30, 2004
Well, it has been a while since I have posted anything. I even got chided by a political blogger in Seattle, Matt Rosenberg. He's right. Sorry. Its not like I have been sleeping though!
Been walking - still in Casa Solana. Even met someone who read this blog (and also complained about infrequent updates)! From another older voter I got quite an earful about how the County is trying to steal the city's water. He was not in favor of any cooperation between City & County.
Have attended a few "house meetings"' These are an excellent way to meet voters and really discuss the issues. These are not 'debates' in that my opponent was not invited (although perhaps attended at a different time), but voters ask detailed questions and express what they would like to see done - from No Growth (at all) to 599 access to lot splits to Commissioner ethics (or lack of) - the topics (and the food) have been great. In all cases, I was contacted and invited by concerned residents. It is a real indication of how important many people think this election is to the future of the County.
Having read so much about water usage, I decided to collect some firsthand data. I went down into our well and got the water usage log (I go down about once a year, and write the current meter reading on the pressure tank). Since the well was drilled in 2/95 (110 months ago), we (a family of 4) have used 379,000 gallons of water. This works out to about 118 gallons a day (30 gallons a person each day) or .13 acre feet a year. The County (and State Engineer) has very little documentation on actual domestic well water usage.
We have no landscaping that requires water, don't flush much (not great conservation planning, just 8 year old kids!), wash the cars in town once a year whether they need it or not and turn off the water when brushing teeth. I think our biggest use of water is washing clothes - we have a 'standard' washer (20 or 30 gallons a load?), and probably average a bit more than one load a day.
Some of the newer higher density developments in the County are using less than an average of .2 acre feet per dwelling, including common and private landscaping. They use catchments and greywater systems. This is great, and shows what can be done.
Well, go to go refine a mailing list.... I will update a more often. Really.
March 17, 2004
Well, I'm now an official candidate. There are only two of us running for this slot - Virginia Vigil is the other candidate. I will be #1 on the ballot, she #2. Her website is in development, and I will post a link as soon as its up. We are both registered Democrats, so this election is over June 1. This is good - it will save the district 2 residents from four additional months of campaign signs, as well as allow the winner 6 months to prepare for the job.
I have knocked on my first doors, and have learned a few lessons: People know the issues and ask hard questions! Face to face is great, and the 'sound bit answers' don't work! I've had one door slammed in my face, and two barely dressed people answered (and questioned me) unabashedly.
March 15, 2004
The visible part of the campaign is starting. I have put up a few 'test' signs and notices. Got a few positive calls, questions (water, name really Blog, are you nuts?) and suggestions (post the voting places, support the Living Wage in the County). So far, I have had 3 signs removed, and one email asking to not post notices on their mailboxes.
I will start walking neighborhoods today and over the course of the next 2.5 months, I hope to reach thousands of voters, get elected AND loose 10 pounds! Gotta have goals.
Election signup is tomorrow at the County Clerk's Office 102 Grant Street. $50 and no petitions. The job pays about $27,000 a year. See you there!
March 4, 2004 1:25 pm
Spent all day Tuesday "politicking" at City Election polling places. Got quite an earful about the issues. Then went to a great Hydrology conference and got an earful on water (or lack of) in the county. The science was interesting, but toward the end, 'lay people' asked how to turn the science into public policy. To their credit, both the City and the County had some people there.
I finally sat down and put finger to keys and have written what is a start on my position and ideas on water and growth. Please take a look here and let me know what you think.
March 2, 2004 6:37 am
IF YOU LIVE IN THE CITY - VOTE TODAY! Sorry for shouting. But do. I will be at many of the polling places for City Council candidates that overlay County District 2: Gonzales, Salazar, Alameda Middle School, Larragoite, Wood Gormely and St. John's Methodist Church.
For me, the end of the City elections kicks off the County races. Pretty exciting, no? I sincerely hope the County races don't descend into the muck of anonymous mailings of lies and slander - there really are enough good issues to argue about! Here is an opinion I submitted to the New Mexican this morning about this mud:
How pathetic.
Why wouldn't the senders say who they were? What are they afraid of?
One of the great things about this area is the diversity of opinions, and the willingness to back them up with a good (or unusual) argument.
We DO need a good brawl about growth and water - if the time and money spent on these mailings went to open debates and distribution of baseline facts, some good community conclusions could be reached.
I hope the candidates and special interest groups (including the citizens!) learn from the mess of the City election and do a better job in the upcoming County elections.
There is no reason not to stand behind your opinions here - its not like you are going to be arrested for having them!
Even Rush L. or Jerry F. stand behind their comments!
Come out Come out whoever you are, and fight like a Santa Fean.
VOTE Today!
February 29, 2004 10:00 pm
Just a piece of trivia: City residents (can) vote in County Elections! In fact, the boundaries of the County Commission Districts are designed to each include a 'chunk ' of the city. This make sense: the city IS located in the county. A look at voter registration and voting patterns show the city can (and has) influenced the makeup of the County Commission.
After some questions by me and others at candidate forums, the City Council candidates paid a bit of attention to City / County 'relations.' This is critical: for many reasons, growth in the county is much greater than in the city - both at the high end and low end. The city has less than 2% of it land available for new development. Cost and time to build is greater in the city than the county. In the upcoming city elections, please consider the city council candidate's attitude toward county relations. ALL City candidates except Ortiz and Bently have at least some overlap in County Commission District 2.
Because of this overlap, I will be campaigning at the District 2 polling places. Please feel free to share any of your concerns and comments.
The county races should kick up a notch when the city council election is over.
Still no firm indication that anyone but Ms. Virginia Vigil and myself are running....
February 21, 2004 8:15am
The most frequent question I have been asked is "Who are you running against?" The ideal answer would be "The drunk dog beater that owns the strip mine." or "Why, no one." Unfortunately, neither answer is correct. Unlike city & State candidates, County candidates do not need to get nominating petitions signed. Simply show up at the County Clerk's office (102 Grant Avenue) on March 16th with $50 or a pauper's certificate and you are a legal candidate (You have to be 18, registered to vote & reside in the District.). So until March 16th I don't know who all my opponents are. See ya there!
I do have one announced opponent: Ms. Virginia Vigil. Virginia is an attorney that has spent many years employed by various local government agencies. Until recently, she was employed by Santa Fe County in the County Manager's office. In the 2003 budget, she is listed as a Policy Analyst, with total salary and benefits of $82,726. In the 2004 budget, she is listed as a Legislative Services Manager, with total salary and benefits of $84,402.
In early 2004, Ms. Vigil applied to the County Commission be appointed to replace Patsy Trujillo-Knauer as a State legislator. The Commission instead appointed Mr. Jim Trujillo. Virginia left the County shortly thereafter, and is currently employed by Santa Fe Community College.
I have spoken to Virginia, and we both pledge to run an issues based campaign and not tear each other's signs down. I will post a url to her website, once it is available (I really do want the voter's to make an informed choice!).
I'm sure more opponents will enter this race. I have heard rumors of others, but hey, I'm hoping to be a politician and shouldn't be spreading rumors.... We will know March 16th at 5pm.
February 19, 2004 12:05pm
Let me start this blog (web log) by saying my name really IS Blog! My name sure caused me grief in elementary school, and it may not be a classic name for Santa Fe politics, but it sure has recognition by the computer and politically aware.
This blog will record some of my thoughts, observations, ideas, rebuttals, and election trivia as I run my campaign for County Commissioner. It further extends my commitment to communicating with all residents and voters.
I have been hounding the city council candidate forums for a while, mostly to prepare myself (hint: have a few friends in the audience with "nice" questions....). It was impressive to see how the speeches improved and changed over time. I kept asking how relations between the city and the county could be improved, and got the usual bland answers. It really is critical and must be improved. In fact, basic voter analysis shows the city residents (who are also County residents) really influence the election for County Commissioner, especially in district 2 (my race).
Las night I attended the second meeting of people concerned about the Peter's development planned for just south of Las Campanas and west of 599. 260 homes. The key point though, concerns a 'well sharing agreement' between the development and the County, whereby the well would be overbuilt and become County property, with the intent of the County to transfer additional water right to the well, and draw water from the well far in excess of water needed by the development (about 96 acre fee a year). Resident are concerned that this well would adversely effect local wells. Residents are concerned that the County is a co-applicant with the developer to the State Engineer (ie who is looking out for the existing residents?).
I share those concerns, and would like to add two major ones, and key to my campaign: Why is the notification 'system' so bad - The county and the developer had negotiated and approved the well share agreement without any formal notification to nearby residents. It appeared only as a line item on the agenda listing the development's name: Suerte del Sur. Unless you were privy to the marketing plan, this would mean nothing. I really think that ALL land use agenda items should have the Township, Range and Section number in all agenda titles - this would locate it down to a mile - and more importantly, make for very simple automatic email notification!
The second concern is the lack of public policy debate prior to the Commission making major decisions. Although the Commission (as a body) would deny any involvement, there was legislation introduced this session (HB397) to create a County Water Board, separately elected members and bonding capability, to build out a County water system. This may even be a good idea, but it was done WITHOUT public debate by residents OR County Commissioners! This is not a good way to set $100 million dollar public policy. At the meeting last night, I was amazed at the number of county residents that do not want to hook up to a community water system. Those voices, as well as the developers, need to be heard and debated in public.
OK, my fingers are tired, lunch is waiting, and I want to see if my New Mexican online ad is up!
Thanks for reading this far, and feel free to email any questions or comments.
Register and vote June 1! - City and County!
Make Tom Blog Your Choice!
Back